Colonel Jack Jacobs, Medal of Honor
(Ret), Medal of Honor
Jack Jacobs received the Medal Honor for his many courageous actions in the Vietnam war. They involved repeatedly fighting his way for through intense enemy fire, despite being heavily wounded himself, in order to save thirteen lives. Those lives - Jack's comrades - included a fellow US Advisor and twelve South Vietnamese soldiers. Men from different nations who had lived together, fought together and always risked dying together.
Lieutenant Commander Theodore Roosevelt IV
former US Navy SEAL
Ted Roosevelt IV served two tours in the Vietnam War as an Officer with the U.S. Navy SEAL's. He is the Great Grandson of President Theodore Roosevelt and the Grandson of Theodore Roosevelt Jr (TR Jr), Medal of Honor Recipient and Founder of The American Legion. Ted also served as the Honorary 100th Anniversary Chairman of The American Legion and has spoken on behalf of TR Jr in TR Jr's Hallowed History video.
Warrant Officer Keith Payne, Victoria Cross
VC, OAM, DSC (USA), SS (USA), CG (RSVN)
Victoria Cross recipient Keith Payne kindly provides his opinion and support for the Hallowed History mobile system and project.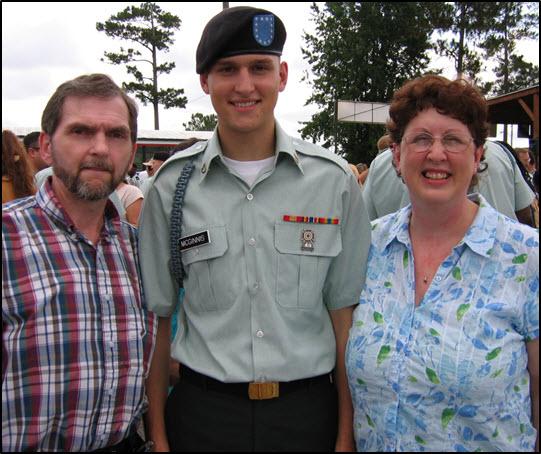 Tom & Romayne McGinnis
Parents of Medal of Honor recipient, the late Ross McGinnis
We are honored that Tom and Romayne McGinnis have joined our other Gold Star families in supporting Hallowed History. They lost their only son Ross in December 2006 while he was serving as a Humvee machine gunner in the Iraq war. When a hand grenade was thrown into his Humvee Ross could have easily jumped from the gunner's turret as he was trained to do. He chose instead to throw himself on the grenade, sacrificing his life so his friends would all survive.
CEO and Co-founder of Weta Workshop, five time Oscar and four time BAFTA winner, gives his support to Hallowed History
Dave Eubank
Founder and Leader of The Free Burma Rangers.
Saviours of the Innocent in Conflict Zones. Dave kindly gives his support to Hallowed History.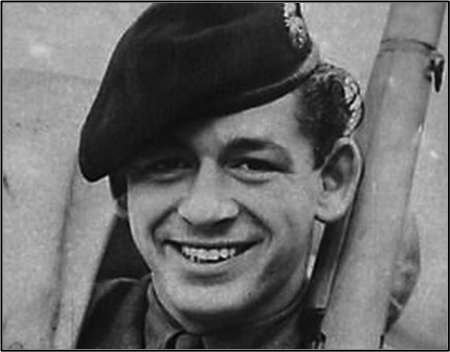 Fusilier Derek Kinne
GC, QKM, UNKM
George Cross Recipient, known as 'The Man they Couldn't Break'.
Korean War veteran, the late Derek Kinne was awarded the George Cross for his incredible bravery as a POW and his repeated attempts to escape. Derek defied his captors for over two years, withstanding torture, striking an officer who assaulted him and steadfastly protecting his mates. We are very proud and grateful that Derek chose to support Hallowed History.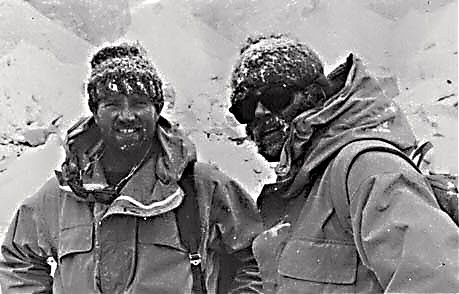 SAS Legends 'Bronco' Lane & 'Brummie' Stokes
Major - MM, BEM | Sergeant - MBE, BEM
Legendary Soldiers of the 22nd Special Air Service (SAS) Regiment and Military Mountaineers
Renowned veterans of the SAS who served throughout the world, from Dhofar to the Falklands and beyond. Both were severely frostbitten, losing many fingers and toes when they successfully climbed Mt Everest in 1976, but still they fought on.
'Bronco' Lane and (the late) 'Brummie' Stokes generously lend their support to Hallowed History
Sqd Ldr Les Munro, Dambuster
CNZM, DSO, QSO, DFC, JP "Dambusters" pilot
Squadron Leader John Leslie (Les) Munro kindly spoke about the Hallowed History Project before he passed away.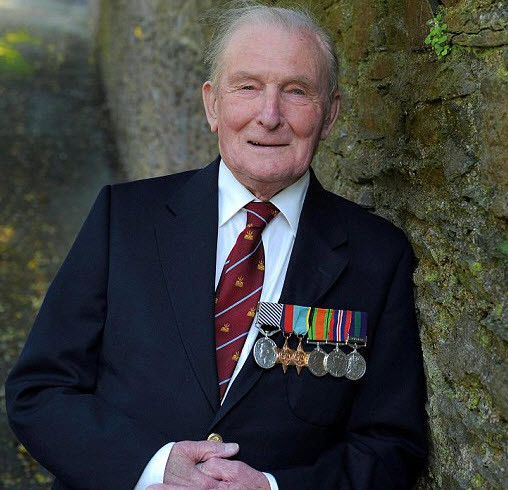 Sqd Ldr Johnny Johnson, Dambuster
DFM, Highly Decorated Dambuster Veteran
George 'Johnny' Johnson is the last survivor of the legendary Dambuster raid of May 1943. As the bomb aimer of the American Joe McCarthy's crew, Johnny coolly called for ten separate runs at the Sorpe Dam before he finally dropped their bomb, bang on target. Like so many of his comrades, Johnny is a strong believer in selflessness and as a teacher and councillor after the war he has spent much of his life in the service of others. We are thrilled that Johnny has agreed to support us.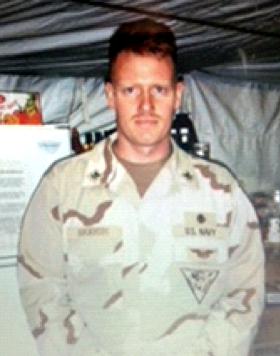 Stephen Buckhorn
US Naval Expeditionary Combat Command
During his service in both Gulf Wars, Stephen was wounded on multiple occasions. His injuries included being stabbed in close quarter fighting, being shot in the back and the leg and having his trigger finger blown off. Showing great resilience, Stephen recovered his missing finger and stored it in his camelback water carrier until it was sewn back on. We are honored to have Stephen's support.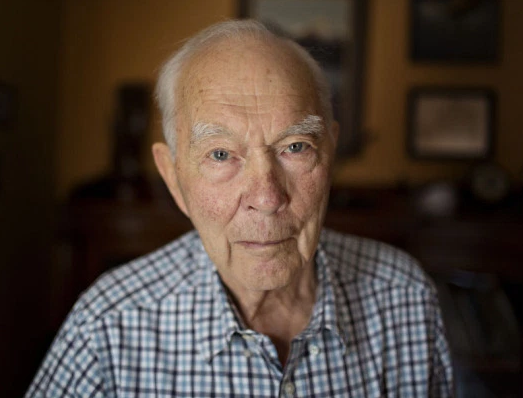 Flt Sgt Fred Sutherland, Dambuster
RCAF Dambuster Gunner and Successful Evader
The late Fred Sutherland was kind enough to join fellow Dambusters George 'Johnny' Johnson and the late Les Munro as supporters of Hallowed History. Not only was he one of the last two survivors of that legendary raid, Fred's luck continued throughout the war largely thanks to the sacrifice of his pilot Les Knight who dragged their badly damaged Lancaster high enough for the crew to bail out over occupied Holland. Hell-bent on evading capture, Fred went on the run for the next three months and successfully made it all the way back to the UK and then home to Canada.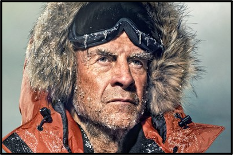 Sir Ranulph Fiennes, Renowned Explorer
OBE
Sir Ranulph Fiennes is described by the Guinness Book of Records and many other sources as "The World's Greatest Living Explorer".
He also served in the UK Armed Forces as an Officer with the Royal Scots Greys and the SAS. His feats as an Expedition Leader, Mountaineer and Extreme Endurance Athlete span over 40 years and are simply incredible. They include, to name just a few, being the first (along with fellow team mates) to reach both Poles, to cross both the Antarctic and Arctic Oceans and to circumnavigate the polar axis. He has climbed Everest and many other mountains on multiple occasions, self-amputated his own frostbite-ridden fingers and raised many millions for charity on the way. We are honoured and grateful that he has agreed to support Hallowed History.
Rear Admiral Jack Steer
(Ret), ONZM, Former Chief Executive of the Royal New Zealand Returned and Services Association
Gives the RNZRSA's support to Hallowed History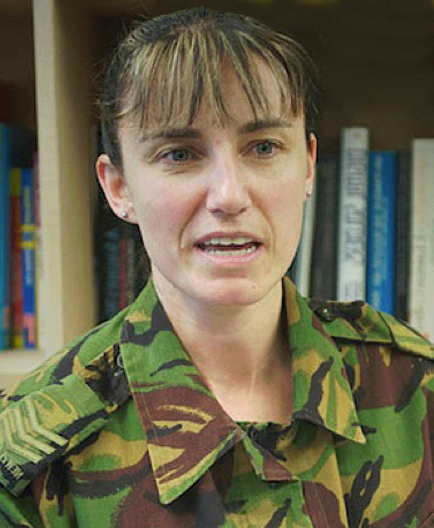 S/Sgt Tina Grant, NZDF Families of the Fallen
NZDSD, New Zealand Defence Force Liaison Officer – Families of the Fallen
When SAS Corporal Doug Grant was killed in action rescuing hostages in Afghanistan, Tina lost her incredible husband and their children lost a wonderful father. But Tina is an incredible woman in her own right, shouldering not only her own family's burden but taking care of other New Zealand families who have lost their fathers, sisters, daughters and sons in the service of their country. We are very grateful that Tina is also supporting Hallowed History.
Lieutenant Colonel Haddon Donald
DSO, MC, MiD, USA Legion of Merit. Commanding Officer 22nd Battalion, NZEF.
Shot three times. Blown up five times. Shot a Ju 52 German Paratroop Carrier down with a Thompson submachine gun.
Fought through Greece, Crete, North Africa and Italy before personally accepting the German surrender at Trieste. Aged 101, Haddon has since passed away.
Flight Lieutenant Ken Orman
DFC & Bar, Bomber Command Pilot
Ken Orman flew 38 Operations with Bomber Command, receiving two Distinguished Flying Crosses in World War 2. One of those awards came after he suffered severe facial wounds on a raid but completed his bombing run and flew all the way home despite heavy blood loss and without blacking out.
Father of the late Private John 'Jack' Howard, Killed-In-Action 2010. Jack Howard fought and died while serving with The (UK) Parachute Regiment in Afghanistan. Roger talks about keeping the memory of his son alive through Hallowed History and the value of this to their family.